CMA Awards: The Best Moments Of The Night!
This was such a great CMA Awards show. So unifying and so many wonderful performances, don't you agree? What were some of your favorite moments?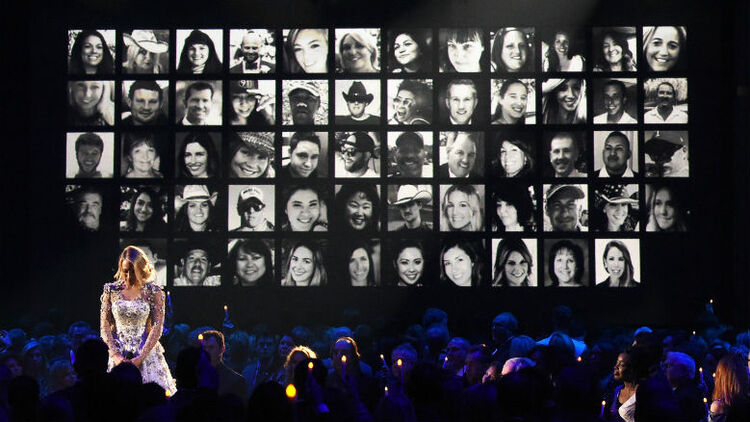 Country music's biggest titans came together on Wednesday night (November 8) to celebrate all things successful in their game at the 51st annual CMA Awards on Thursday night (November 8). Much like they do every year, country singers of all kinds joined forces for star-studded performances, one-of-a-kind tributes and, of course, plenty of buzzworthy moments.
If you missed out on the action, iHeartRadio has you covered with some of the biggest moments from Wednesday night. Scroll on below to relive the star-studded country affair!
Carrie Underwood Remembers Vegas Shooting Victims With Powerful Performance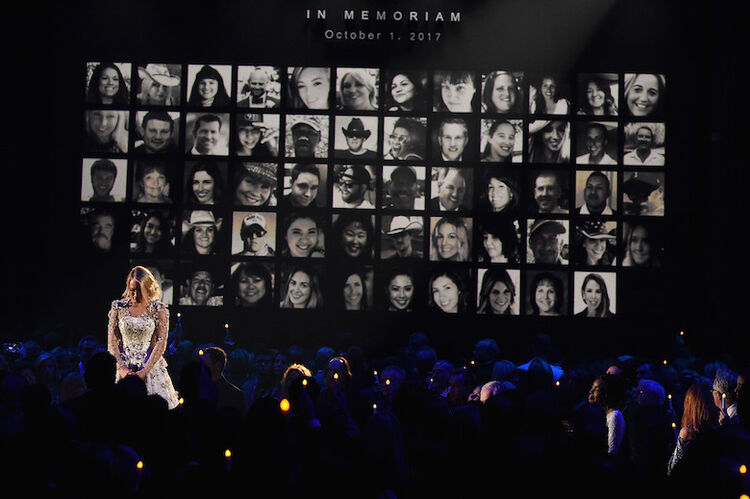 Carrie Underwood not only co-hosted this year's CMA Awards, but she gave an absolutely breath-taking performance of "Softly and Tenderly" to help remember all of those we lost this year.
Dressed in a stunning white gown, Underwood looked like an angel on Earth as she belted out the emotional ballad as images of, not only those in country music who passed away this year, but to also honor the memory of the fans who lost their lives during the horrifying mass shooting in Las Vegas during the Route 91 Harvest Festival.
At the end of Carrie's performance, images of the 58 country music fans who lost their lives during the terrifying shooting flashed across the screen as the country star belted out the song's powerful lyrics, easily making it one of the most emotional performances of the night.
Carrie Underwood Breaks CMAs Rules By Completely Roasting Donald Trump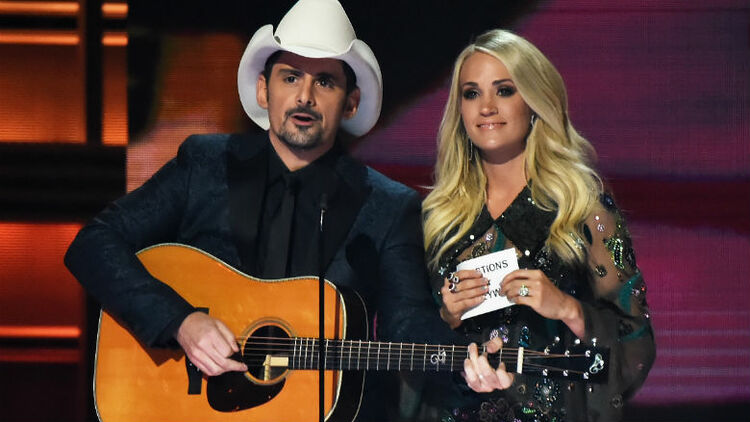 Hosts Carrie Underwood and Brad Paisley did not pay attention to show rules by steering away from politics. In fact, they went against it and took a few jabs at Donald Trump to the tune of Carrie's smash, "Before He Cheats." See the moment unravel below!
Darius Rucker, Eric Church, Lady Antebellum & Keith Urban Open The CMAs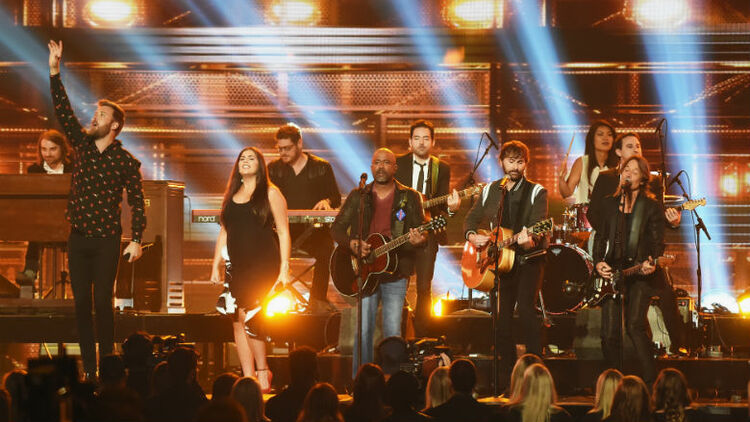 All eyes were on Eric Church, Lady Antebellum, Keith Urban, Darius Rucker and almost every single other heavyweight of the night opened with a rousing medley of "Amazing Grace" and Hootie and the Blowfish's classic, "Hold My Hand."
In what was promoted as an "unprecedented opening collaboration," the acts kicked off the annual affair live from the Bridgestone Arena in Nashville on ABC with an acapella performance of "Amazing Grace" by Church. But the pace picked up when Darius and Urban jumped into Hootie and the Blowfish's "Hold My Hand" territory and was eventually joined by Lady Antebellum, a full band, and several background singers.
Urban shined when he took front and center for a guitar solo, but the agenda wasn't to put the focus on just one star. It was to come together as a country family and share a sweet sentiment of unity as seen when everyone from McEntire, Ballerini, McGraw, Little Big Town and more appeared for the final chorus to wrap the track up.
Kelsea Ballerini & Reba McEntire Bring "Legends" To Nashville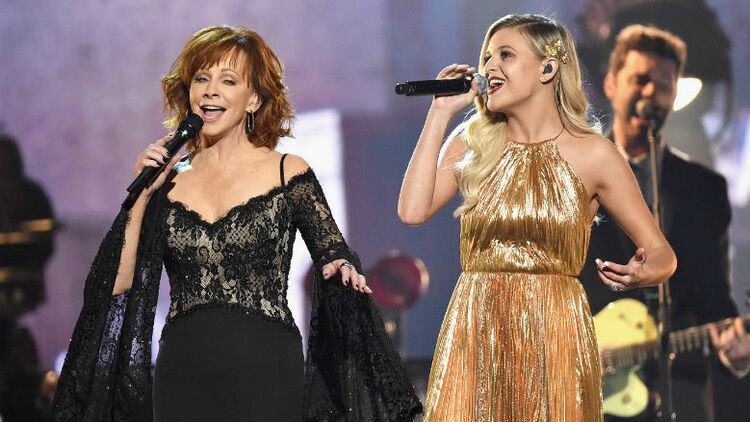 For the number, the 23-year-old graced the Nashville's Bridgestone Arena in a long gold gown, before she was joined by the country titan in a sparkling black number for the second verse. In front of a movie set backdrop, the pair welcomed each other with smiles and soared with one another over their backing band.
"We've gotten to meet, and I think she's a terrific young lady, very talented singer-songwriter, and I love the song," Reba told CMT prior to the number. "I've seen the video, and it is just so emotional. I hope everybody likes our performance as much as I'm going to enjoy getting to sing with her."
Faith Hill & Tim McGraw Remind Us Of All Things Romance Goals
Faith Hill and Tim McGraw took their musical (and romantic) dynamic off the road from their "Soul2Soul World Tour" and went back to familiar territory for the show. As you'd expect, the showing was another reminder as to why the pair remains country royalty in 2017.
For their number, "The Rest of Our Life," the country lovebirds showed just why they're still looking and sounding like such a powerful force together. In a sharp black and white suit, McGraw led the track, before Hill stepped out in a long red dress exposing one mighty leg. "There's one thing I should be giving up, giving up now/ And that's worryin' about life/ Oh, I'll be fine/ If one gray hair shows, I'll be fine/ If my waistline grows, I'll be fine/ Even if time takes its toll/ We'll stay young for the rest of our lives," they belted during the hook.
Taylor Swift Wins 'Song Of The Year' For "Better Man" The competition in this category was fierce this year. Written for Little Big Town, Swift's track beat out other hits such as "Blue Ain't Your Color" from Keith Urban, "Body Like a Back Road" from Sam Hunt, "Tin Man" from Miranda Lambert, and "Dirt on My Boots" from Jon Pardi.
Unfortunately, Swift didn't attend the awards show. We're guessing she was too busy prepping for her much-anticipated pop reputation album, which is scheduled to drop this Friday (Nov. 10). Not to worry, though. When Little Big Town went onstage to accept the honor, the group's members didn't forget to thank Swift from the bottom of their hearts.
"We didn't write this," Karen Fairchild of Little Big Town said of the song. "Thank God Phillip checked his email, because he never checks it. We want to say thanks to Taylor Swift. She couldn't be here tonight, but wherever she is tonight, thank you for loving songs and loving Nashville."
Keith Urban Performs New Song "Female"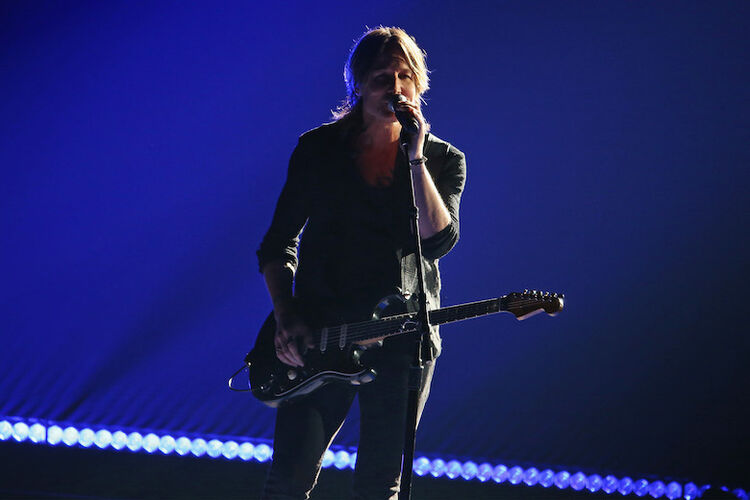 On the morning of the CMAs, Keith Urban released a powerful new song called "Female." The song talks about all of the biases that women face, and was partly inspired by the ongoing Harvey Weinstein scandal, and sexual assault and rape victims who continue to come forward.
Later in the night Keith performed the song live for the first time during the CMA Awards. It was just the country star and his guitar on stage at Nashville's Bridgestone Arena as the lyrics emerged on the screen behind him, emphasizing the meaning behind the song.
Niall Horan & Maren Morris Perform "Seeing Blind" Duet For 1st Time One Direction star Niall Horan and country music superstar Maren Morris joined forces on Wednesday to perform their duet entitled "Seeing Blind" and boy was their performance one to remember. "Seeing Blind" is a track that's featured on Horan's debut solo album, Flicker. Their incredible CMAs performance kicked off with Morris first singing her hit "I Could Use a Love Song." Soon afterward, the 1D member began playing the strings on his guitar and started singing the duet alongside the country music talent.
Little Big Town Remember Glen Campbell With "Wichita Lineman"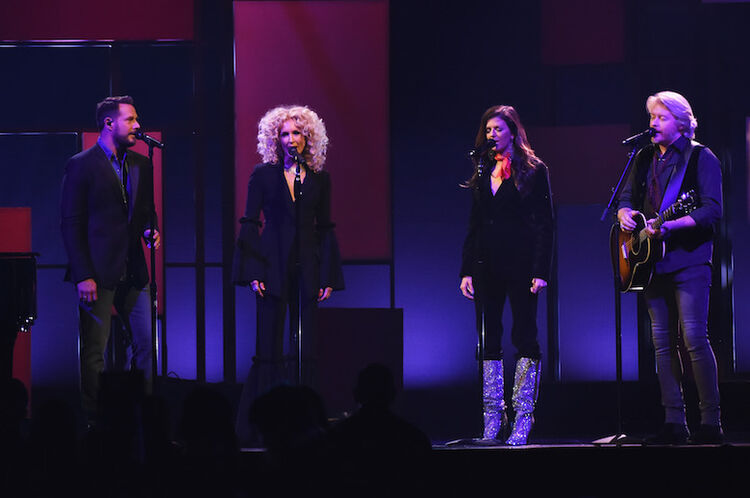 Little Big Town also did some tributing during the show when they performed Glen Campbell's "Wichita Lineman." It was a somber, stripped-down version of the classic, where they made it their very own with their delicate harmonizing. Still, it had a component that brought it back to Glenn when the group shouted out the track's legendary songwriter Jimmy Webb on the piano.
Pink's "Barbies" Performance At The CMAs Was So Beautiful Pink left everyone watching the 2017 CMAs absolutely speechless, thanks to her beautiful performance of her song "Barbies," which is featured on the star's latest album, Beautiful Trauma. We know what you may have been initially thinking. Why was the pop star at country music's biggest night, anyway? Well, it's because she was nominated in the category of "Musical Event of the Year" for her single with country music legend Kenny Chesney called "Setting The World On Fire." When Pink took the CMAs stage to perform another great song of hers, people couldn't get enough. She delivered an epic highlight of the entire night, per usual.
https://www.iheartcountry.com/content/2017-11-08-cmas-carrie-underwood-tributes-vegas-shooting-victims-more-highlights/
Photo: Getty Images

Kathi Yeager
Want to know more about Kathi Yeager? Get their official bio, social pages & articles on KTST! Read more