Trump Says Former Administration Knew About Wiretapping / Obama Is Simply Irked, But What About US?!
Thousands of documents said to detail the CIA's hacking tools were published by Wikileaks on Tuesday.
They included allegations that the CIA had developed ways to listen in on smartphone and smart TV microphones.
The CIA has been criticised by civil rights groups who say the agency "stockpiled" security flaws in devices to use them for its work, but left the population at risk by doing so.
"Our digital security has been compromised because the CIA has been stockpiling vulnerabilities rather than working with companies to patch them," said Nathan White, from the civil liberties group Access Now.
Should we be worried?
"It's not a surprise that people who have a mission to find bad guys and protect nations are using every means at their disposal to gather intelligence on a focused target," said Don Smith from cybersecurity firm SecureWorks.
"If the CIA doesn't have capabilities for eavesdropping, it's not doing its job."
Alan Woodward, a security researcher who advises Europol and previously advised UK spy agency GCHQ, said the public should be "encouraged" by the information published.
"Most of the leaked documents are about targeted attacks. This is not about mass surveillance and vacuuming up a haystack of data to search for a needle," he told the BBC.
"They need warrants, they can't just tap in to any phone - it doesn't work like that. One of the reasons people have faith in the security services is that they tend to obey the law, and when they don't it comes out."
However, Access Now said the CIA's decision to keep security flaws to itself had "significant repercussions for human rights and digital security".
Whistleblower Edward Snowden criticised the scope of the CIA's methods.
"Imagine a world where the actual CIA spends its time figuring out how to spy on you through your TV," he wrote on Twitter. "That's today".
Are 'smart' devices safe?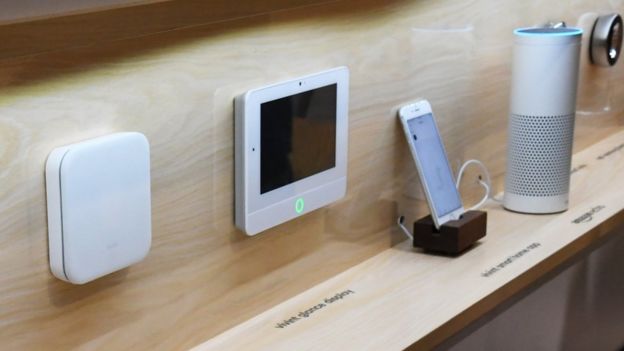 Image copyrightGETTY IMAGESImage captionMany home gadgets are now connected to the internet
Homes are becoming increasingly "smart", with everything from light switches to voice-activated kitchen appliances connected to the internet. If unsecured, these could reveal our activities in the home.
"The concept that intelligence agencies are doing broad personal surveillance using these devices is not realistic," said Mr Smith.
"I would be amazed if that was the case because the resources to make sense of all the data just aren't there.
"My concern is much more what online criminals might be able to achieve with these devices. There are plenty of examples of things such as baby monitors being open to the wider internet."
The documents published by Wikileaks detail ways in which some Samsung televisions could be used to spy on their owners. Mr Woodward said it was unlikely the exploit was widely used.
"They're talking about a few models of Samsung TV. If you read the documents, they have been vulnerable for a while. It would be surprising if the CIA was not looking into that," he said.
"Has the CIA remotely hacked them? No. They have to get into your home and plug a USB drive in to them. It's a high risk. If you have to get in to somebody's house you can give yourself away."
So whether you feel this is a "Police State" type operation or a "Foreign Affair" does smart technology worry you now?

Kathi Yeager
Want to know more about Kathi Yeager? Get their official bio, social pages & articles on KTST!
Read more