Fans Are Worried The Focus On Blake & Gwens Relationship Will Be Bad For 'The Voice'
Warning: Gwen's gotta potty mouth in this video!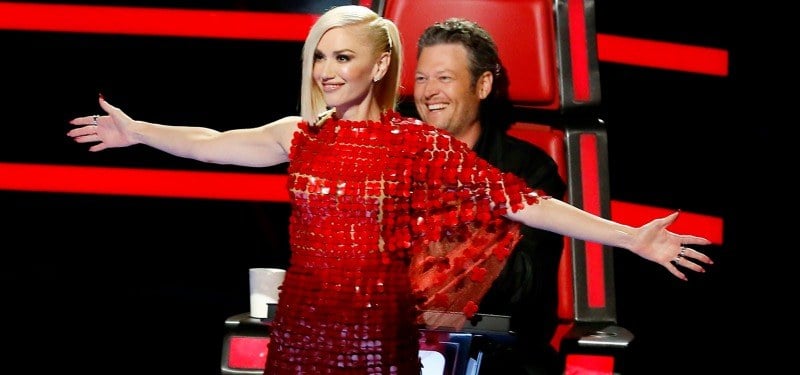 Gwen Stefani and Blake Shelton on The Voice | NBC
The Voice is back and Gwen Stefani and Blake Shelton are reunited for Season 12. A big part of the promotionfor this season has been about Gwen and Blake, because their relationship is now public. One of the show's ads reads, "Feel the Love" with the coaches huddled together and Gwen looking at Blake lovingly. The commercials have also showed clips of Gwen and Blake bickering, while Alicia Keys and Adam Levine chime in with jokes like, "someone's going to be sleeping on the couch tonight."
In another promo clip, you even see Gwen tell a contestant, "I just did a country song with Blake Shelton, so I've got the hookup!" Blake then responds to Gwen, "That is so inappropriate to be talking about our hookup!" So, it looks like this season will be filled with references and jokes about the new couple.
Of course, it makes sense for the show to acknowledge that the two coaches are dating and possibly even getting married. But, it will no doubt change the dynamic of the show that used to heavily rely on Blake and Adam's relationship. Some fans have even complained that Gwen and Blake could end up ruining this season of the show.

A screenshot of a Facebook comment | Facebook via The Voice

A screenshot of a Facebook comment | Facebook via The Voice
It looks like not every fan of The Voice are thrilled about this season. Do these commenters have a point? Here are nine ways Gwen and Blake could ruin The Voice this season.
So are you excited for this season and love how close all the celebs in the red chairs are or are you also worried? What's your view?

Kathi Yeager
Want to know more about Kathi Yeager? Get their official bio, social pages & articles on KTST!
Read more