John Goodman Defends Roseanne Barr After Firing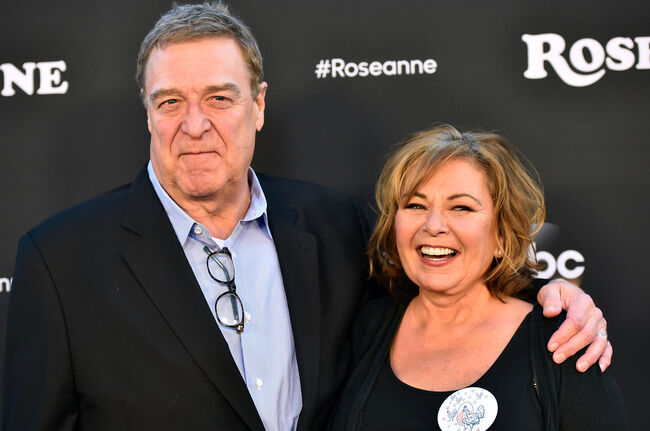 John Goodman is standing by his former co-star Roseanne Barr after she was fired from her titular show Roseanne for making racist comments on Twitter. Goodman spoke about Barr, as well the new spin-off The Conners, during an appearance on Jimmy Kimmel Live. Despite Barr's offensive remarks, Goodman remains fond of Barr and harbors no ill will towards her for the cancelation of the Roseanne revival.
"She is missed, definitely. After that many years, it's like a family," Goodman told Kimmel. "It was very weird doing the first show without her, because she's my buddy." Roseanne originally premiered in 1988 and ran for nine seasons. ABC revived the show for a tenth, and ultimately final, season in 2017 to critical and commercial success.
"Last year was so miraculous and so unreal that when it went away it was almost like a dream," Goodman said of the show's revival and subsequent abrupt cancellation. The actor also commended Barr's decision to give up all creative and financial ties to the show that made her a household name after she was fired. "She gave up a lot so that people could work," said Goodman.
This isn't the first time Goodman has defended Barr, either. He spoke with People at length about the ordeal alongside Sara Gilbert, who plays his daughter on Roseanne and The Conners. "I was consciously trying to accept it," he said about first hearing the show had been canceled. "Just like, 'Okay, this is happening, just breathe and go with it.' Underneath I'm trying to get out of a plastic bag that is closing in on me, but I'm trying to be calm on the surface. I remember that contradiction."
The cast and crew will continue working together on The Conners, which will be centered on Goodman's character Dan and the Conner family. "It's the same family, minus mom," said explained. Barr revealed that her character will be killed off as a result of an accidental drug overdose in the debut season of The Conners.
The Conners premieres on October 16, 2018 on ABC. Will you be tuning in?